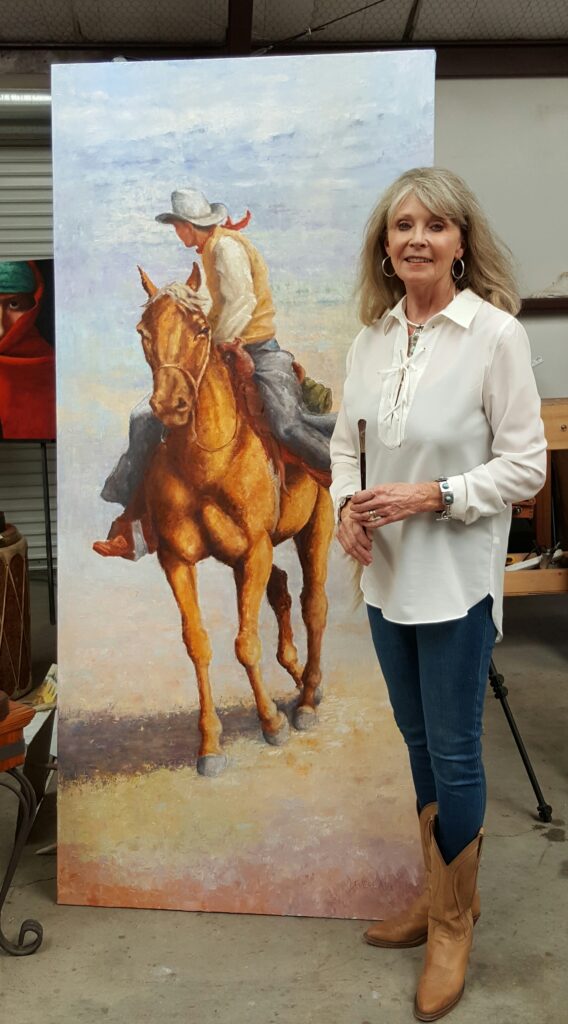 Paula Devereaux is a renowned Southwesten artist based in Santa Fe, N.M. Known for her figurative sculpture and painting Devereaux's richly detailed portraits of Native Americans and cowboys capture the spirited essence of the American Southwest.
In a career spanning 35 plus years, Devereaux has mastered a variety of mediums, including woodcarving, bronze sculpture and oil painting. She has been commissioned to create life-size and larger sculpture of notable historic figures, from members of the country and western band "Alabama" to her own grandfather, Dred D. Devereaux, a legendary roadmaster of the Texas Southeastern Railroad.
Raised in Texas and Arizona, Devereaux took early inspiration from pioneering western artist George Phippen and John Hampton. With encouragement from her father and family, who recognized her talent at a young age and enrolled her in private art studies, Devereaux went on to Fine Arts at the University of Texas at El Paso and Scottsdale Artists School.
For the last few years, Devereaux has painted the vast and colorful landscapes of Northern New Mexico, where she owns and operates a hunting and fishing ranch (Rancho Escondido de Chama) with her husband Mel Kurth. On most days, Devereaux can be found in her studio, perfecting a plein air landscape of the area, or putting the finishing touches on a sculpture.
Biography
| | |
| --- | --- |
| 1947 | b. 3 October, Lufkin, Texas |
| 1956-66 | Private tutoring from professional illustrators and sculptors |
| 1968-70 | Eastern Arizona College, Thatcher, Arizona |
| 1976-78 | University of Texas at El Paso, Texas |
| 1982 | Began professional Sculpting Career |
| 1986 | Co-Founder of the Texas Woodcarvers Guild |
| 1987 | Recipient of George R Mobly Award for Excellence in Woodcarving |
| 1989-94 | Studied Sculpting, Scottsdale Artist School, Scottsdale, Arizona |
| 1997 | Became Signature Member of Knickerbocker Artist USA |
| Present | Living and working in Santa Fe and Chama, New Mexico |
Commission Work and Collections
| | |
| --- | --- |
| 1983 | City of Humble, Humble, Texas |
| 1984 | Humble Historical Museum, Humble, Texas |
| 1985 | Pride Craft Homes, Houston, Texas |
| 1987 | Houston Film Inc. Houston, Texas; "The Legend of the Blue Bonnets" |
| 1988 | Whitewater Enterprises, San Diego, CA |
| 1990 | Varo International, The Netherlands |
| 1997 | Texas Forestry Museum Lufkin, Texas |
| 1999 | Nacogdoches Historical Society Nacogdoches, Texas |
| 2001 | Lufkin Industries Inc. Lufkin, Texas |
| 2002 | Pineywoods Foundation Lufkin, Texas; Kurth Memorial Library |
| 2003 | Pineywoods Foundation Lufkin, Texas; George Henderson Memorial |
| 2003 | Deep East Texas Development Association: The Silver Bucket Award |
| 2004 | The History Center Diboll, Texas; The Dred D. Devereaux Memorial |
| 2005-06 | The City of Fort Payne, Alabama, Country and Western Band |
| 2007 | The History Center Diboll, Texas; The Arthur Temple Memorial |
| 2008 | Private Collector Commission |
| 2009 | Private Collector Commission |
| 2010 | Hurricane Creek Mining Disaster Memorial, Larger than Life: Hyden Kentucky |
| 2011 | Mytris Dightman Memorial, Twice life-size: Crockett Texas |
| 2012 | Matador: Sandia High School, Albuquerque, New Mexico |
| 2013 | Coach AJ Hopkins, Twice Life-size, Crockett, Texas |
Exhibitions
Personal
| | |
| --- | --- |
| 1986 | The Texas Woodcarvers Gallery – Spring, Texas |
| 1987 | Tear of the Moon Gallery – Wimbery, Texas |
| 1988 | Expressions in Art – Houston, Texas |
| 1992 | E.S. Lawrence Gallery – Taos, New Mexico |
| 1993 | E.S. Lawrence Gallery – Taos, New Mexico |
| 1994 | Hillside Gallery – Sedona, Arizona |
| 1995 | Main Street Gallery – Flagstaff, Arizona |
| 1999 | Governor's Gallery, State Capital – Santa Fe, New Mexico |
| 2001-05 | Joe Wade Fine Arts Gallery – Santa Fe, New Mexico |
| 2007 | Wild Spirit Gallery – Pagosa Springs, C |
| | |